Using iPad and ProCreate
8 Class Projects
It takes about 30 minutes to 1 hour to complete one class project.
Friends in a circle

Playing is my favorite

Forest adventure

The Daily Life of a Housekeeper

A great day to go on a picnic

Helsinki, the blue city

Walk ending

Goods made from my own work
Expressing Different Textures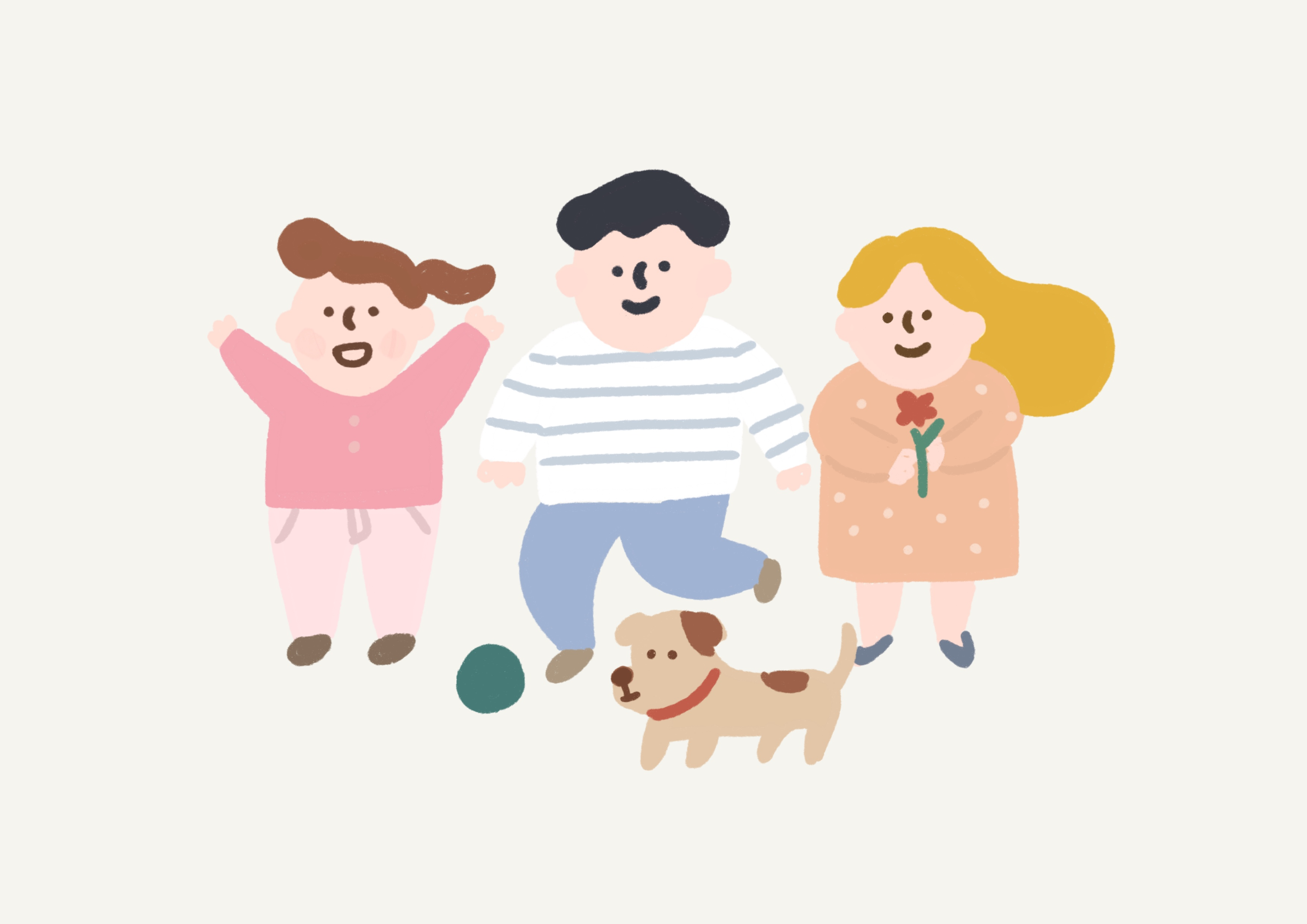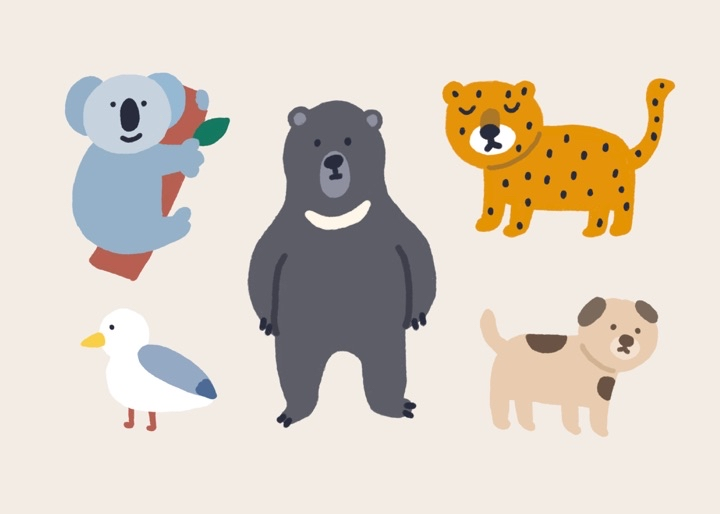 Draw warm and cute drawings on the iPad
Do you like painting?
Painting really enriches life.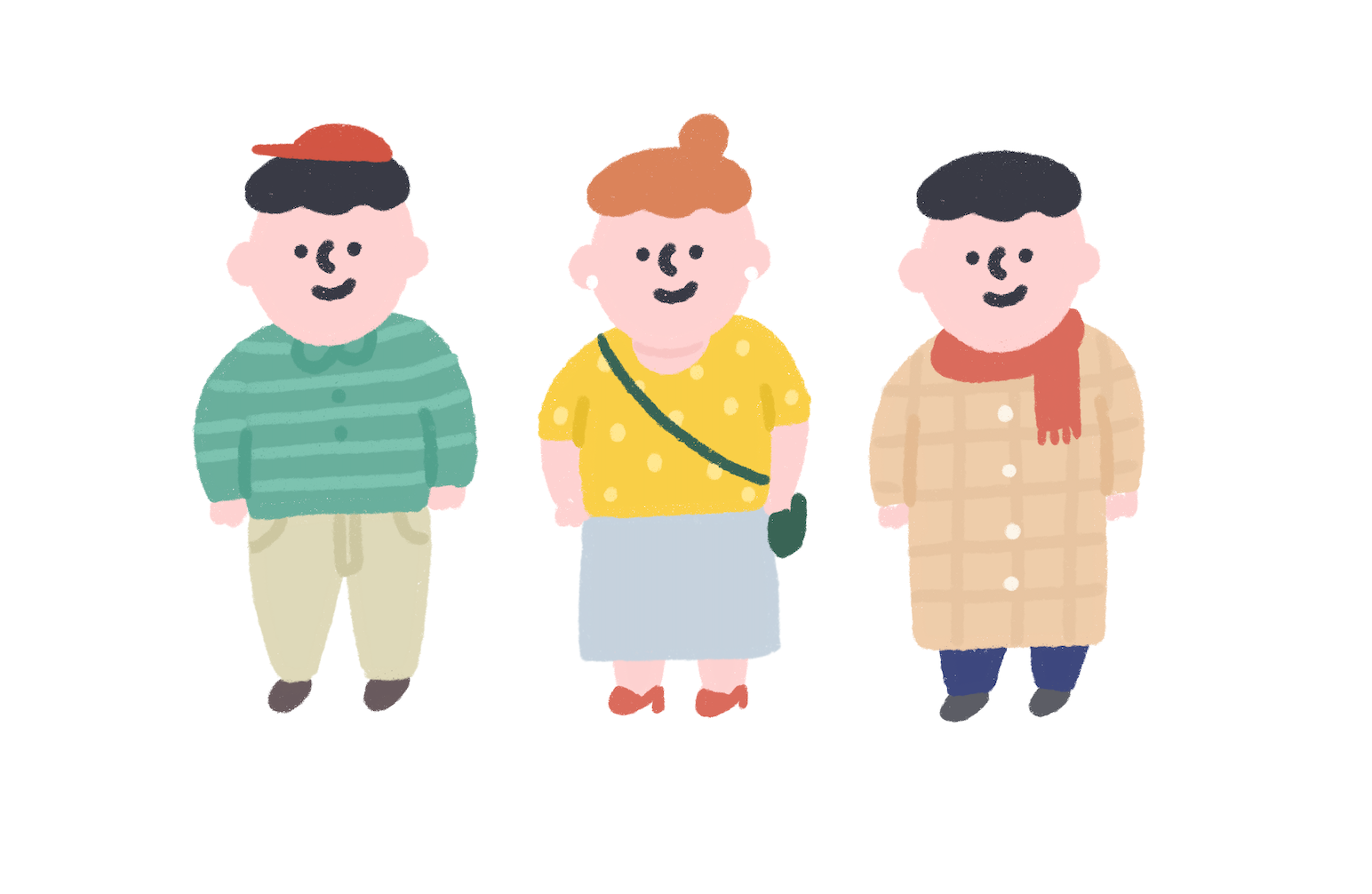 A good picture seems to give us joy. There are paintings that make your heart feel warm and smile just by looking at it. However, there is something that can give you happiness that lasts longer than the joy of those moments. That's right! It is to draw a picture yourself.
If you like the picture I've drawn, your feelings of joy will last a long time. I want to see it again and I want to be proud and proud. Even drawing is very useful. You can share it or make goods and share it with others around you.
Boring everyday life, things you alway see, and landscapes from travel destinations look more special when you paint them. There are plenty of things to draw in the world!
I want to share with you the joy of drawing!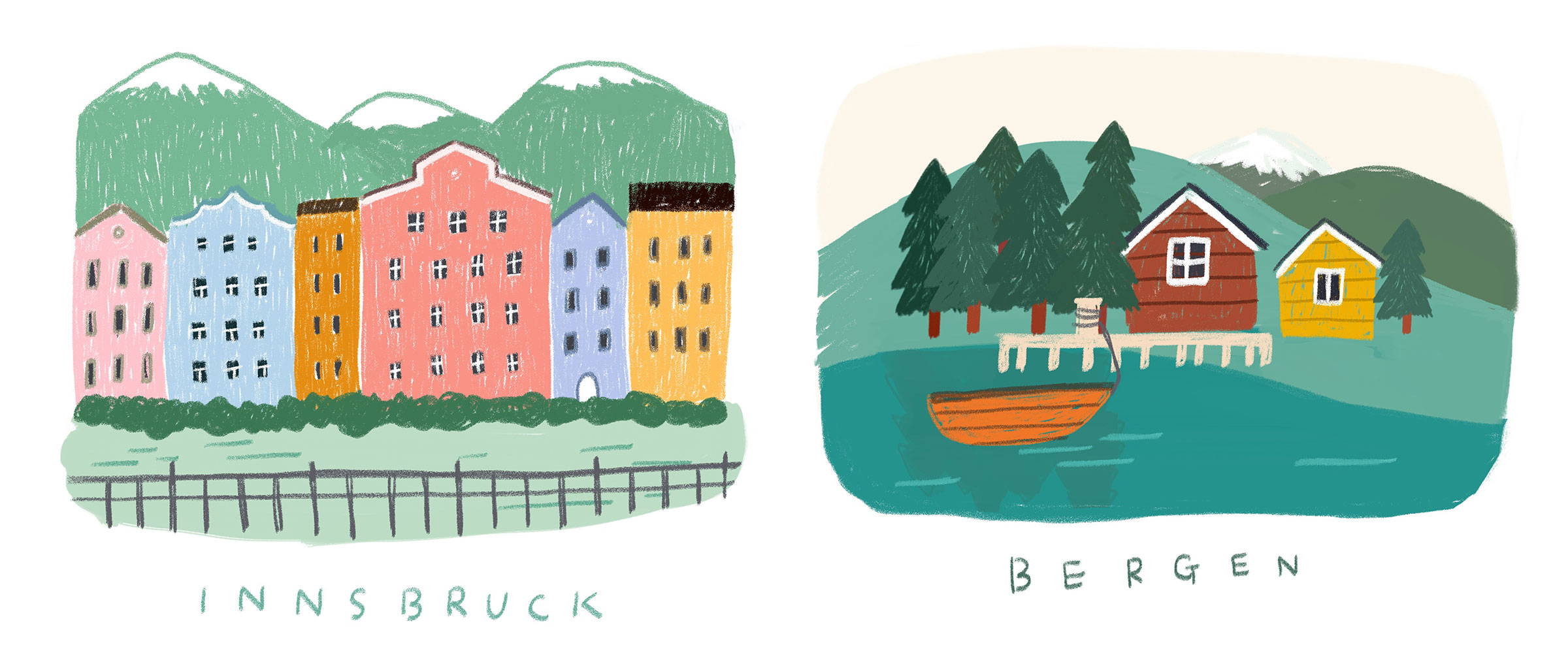 Each individual expressing the same thing in their own way is the point of drawing. There is no "right answer" when drawing! I have never learned art (I was a biologist 👀), but I became an illustrator because I liked drawing.
For beginners, iPad drawing is the best!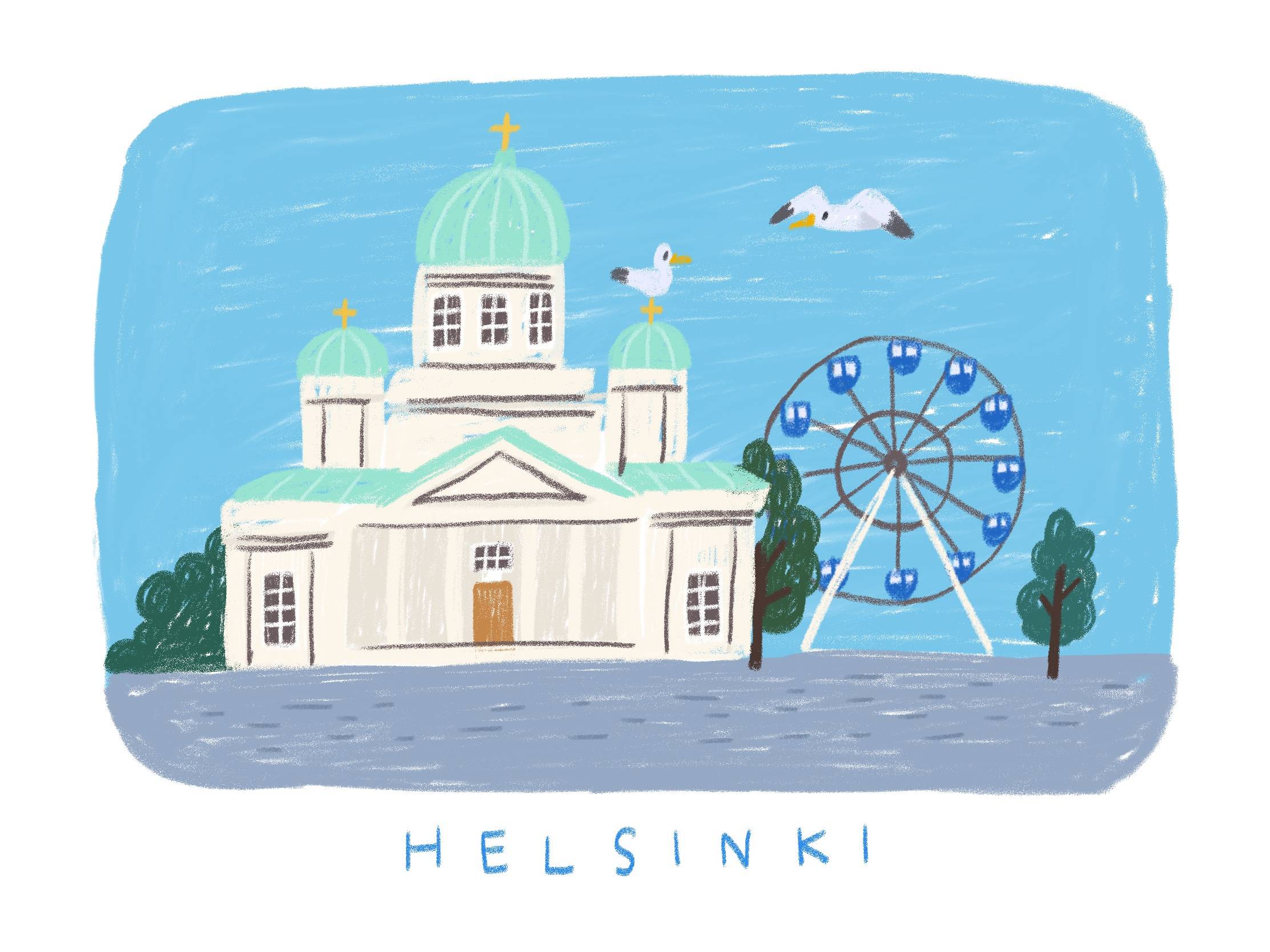 At first, I tried drawing with markers, colored pencils, and really anything I could get my hands on. However, I couldn't erase my mistakes using any of these materials, so it was difficult to draw freely. However! When I started drawing on my iPad, I drew pictures without any burden of making mistakes, and my skills improved.
If you don't like drawing with the iPad, just undo it. It doesn't leave traces like paper, and it doesn't wear out paint!
Here's what you'll learn
Drawing objects more simply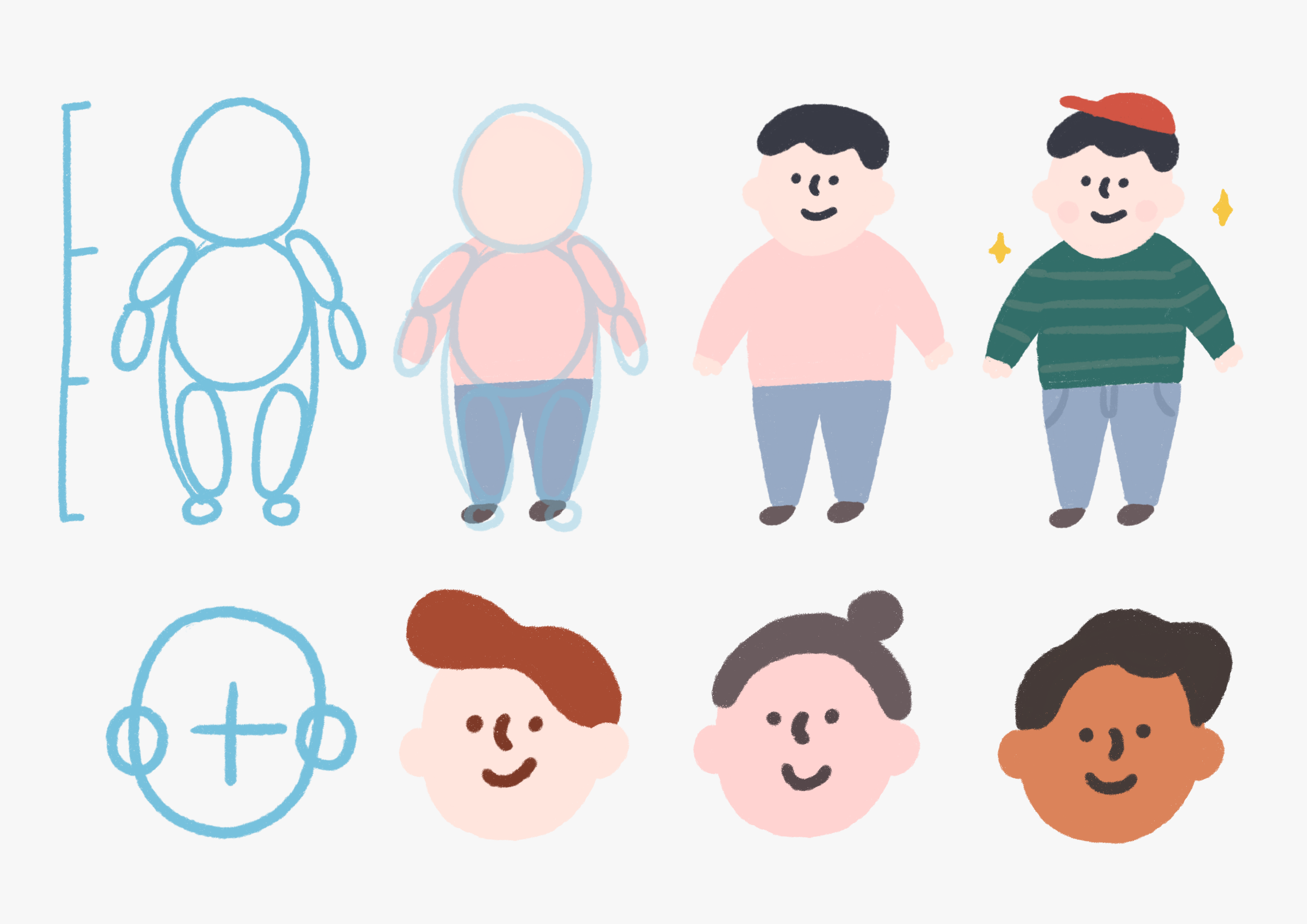 Did you know that everything in the world actually consists of circles, triangles, and squares?
If you just practice drawing circles, triangles, and squares, you can really draw everything in this world! Drawing things into circles, triangles, and squares can make drawing a lot easier.
First, I will teach you to draw a lot of basic shapes so that they are easy to use, then we will combine them to draw a picture! I will help you draw simple objects easily.
Painting people is not difficult!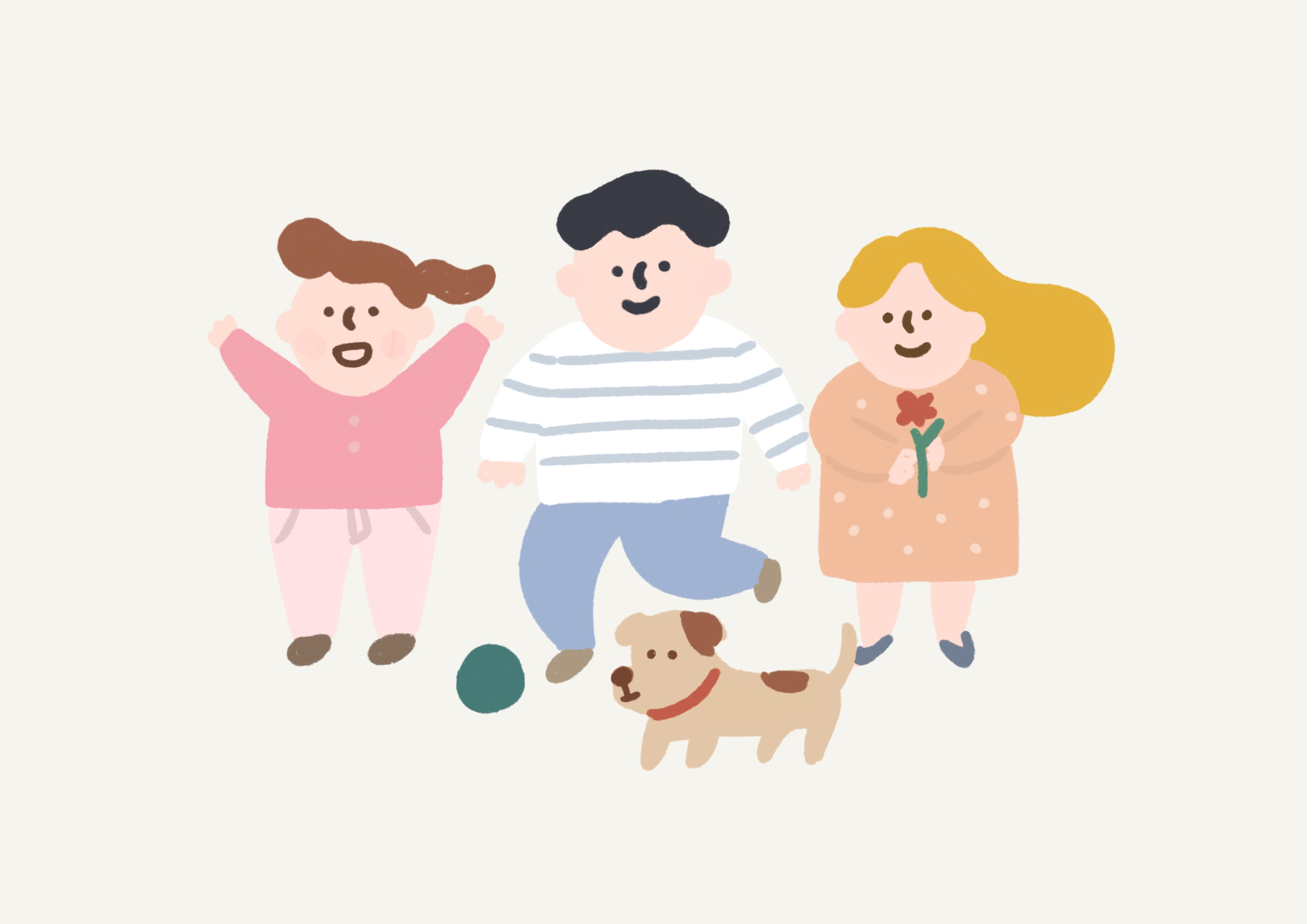 Picture people wearing different faces, poses, and clothes. It is easy to imagine, but the facial expression can change due to subtle differences.
I'll give you a guide to help you draw the human body. Even beginners can easily follow!
I'm going to help you draw some people's pictures and then put them together on one canvas to make a work of art.
Drawing animals isn't difficult either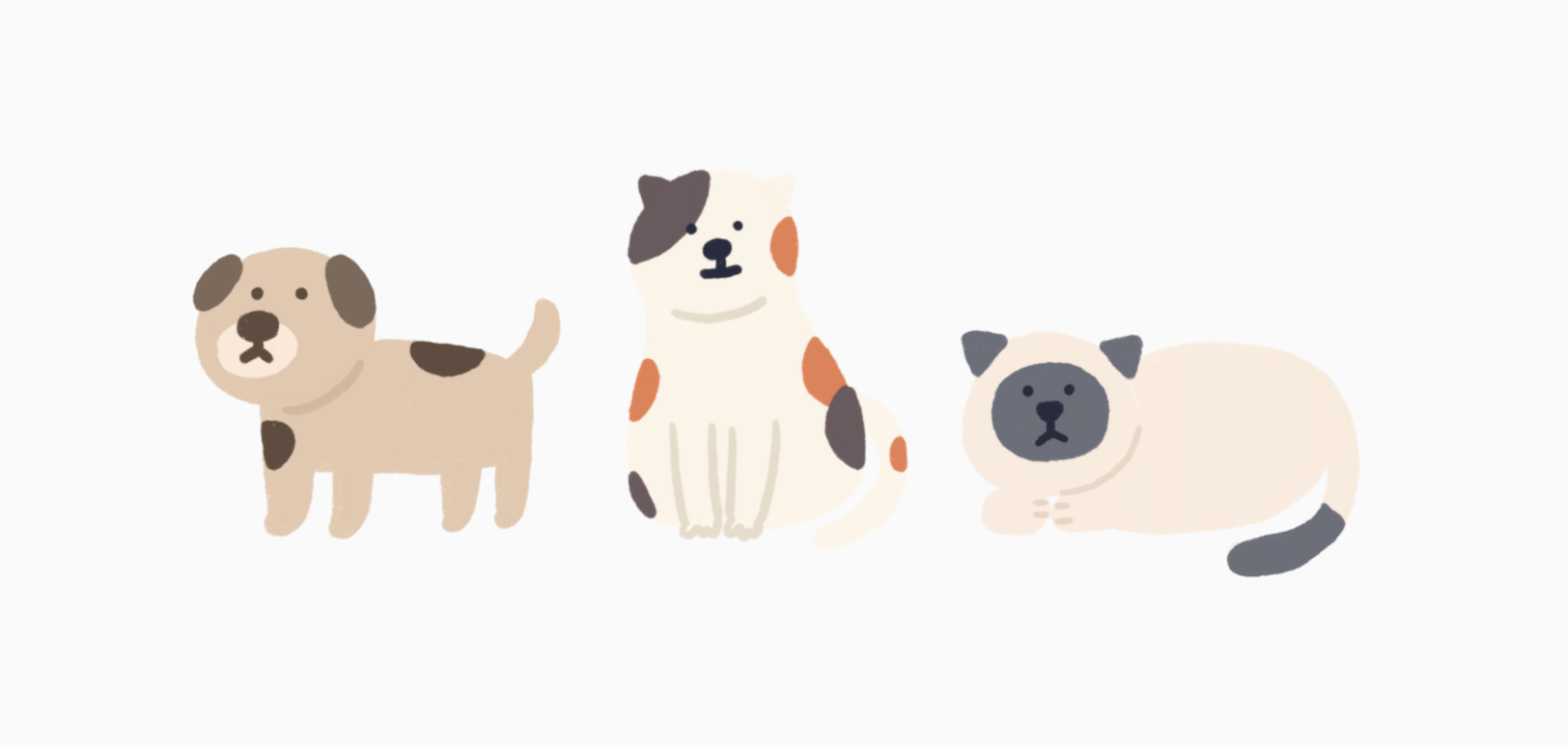 In fact, cute animals have many circles on their faces. We'll draw round animals like bears, leopards and koalas, and animals that walk on all fours like dogs and cats. You can make postcards and hanging posters with your new animal friends.
After giving your illustrations cute text to fit the theme, I'm going to teach you how to make a fabric poster with only an iPad.
Drawing a more detailed picture
Once you master the basic drawings, I will slightly increase the difficulty level. If you add a few more elements to the picture you drew earlier, it can become a scene, and you can draw your story.
You'll learn how to place objects and people, and make color tones a bit more customizable.
Adding animation on your finished picture!
You can also print them and display them on a frame!
Colored pencils and watercolor textures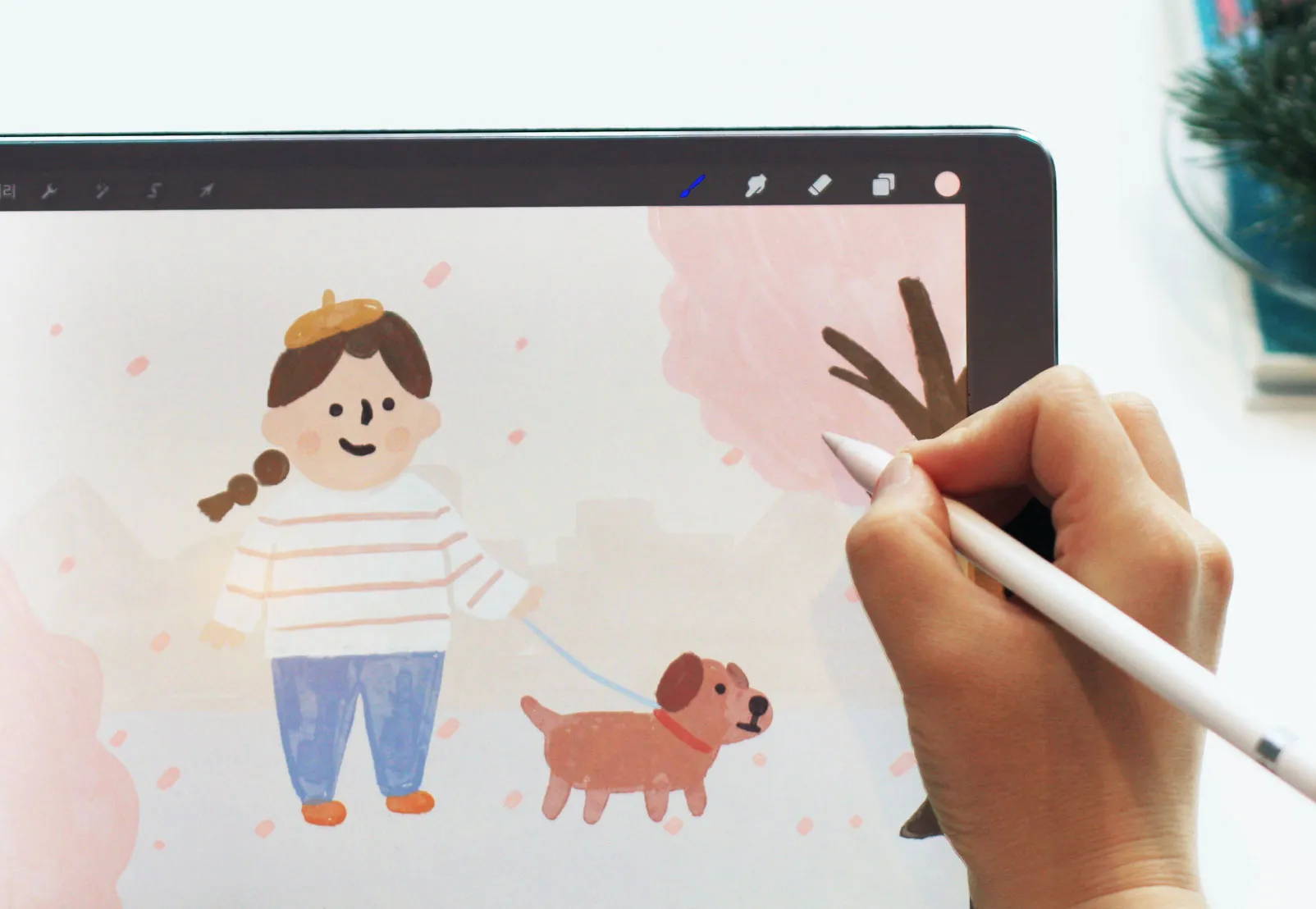 Cute illustrations can be drawn quickly and easily, but they tend to have no texture, so they look flat two-dimensional.
I will share with you a brush that looks similar to the actual materials you use to create, and teach you some tips and tricks. It's the same picture, but these extra steps will give it a richer and different feel.
Writing Cute Words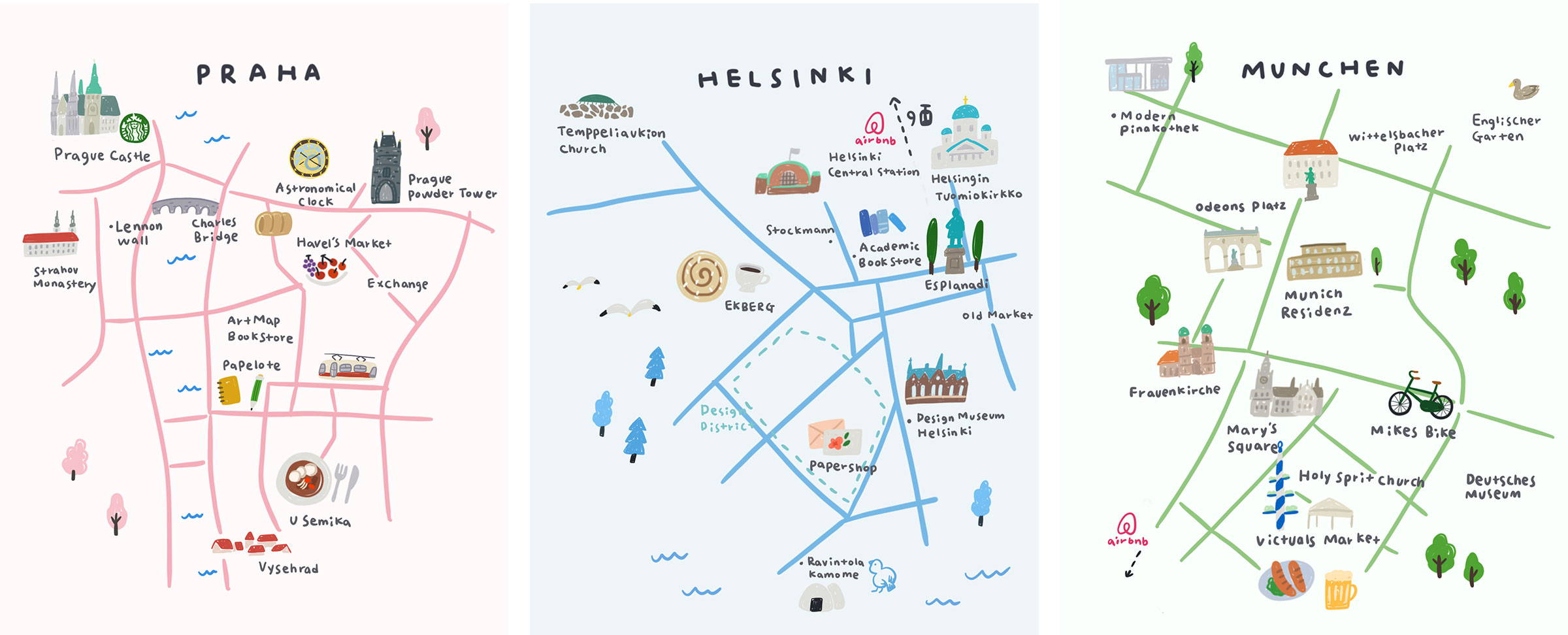 As a last bonus, I will tell you how to add text that fits with your pictures. You will be able give your illustration a theme!
The goods I made last year did really well.
Children's clothes with cute pictures look amazing too!
When my products do well, it feels like the joy that only I felt in the process of drawing is passed on to many people when it is made into a production. I want to share the knowledge I have accumulated while drawing and producing goods!
Curriculum
WELCOME
Welcome to Huseuhu's Digital Drawing Class
1. Introducing the class: Creating simple and cute illustrations
04:52
2. Meet Huseuhu: Illustrator, artist, and your instructor
04:31
3. Drawing with an iPad and Procreate
03:00
4. How to change Procreate to English Version (KOR)
00:32
5. [CLASS101] Procreate 5X Updates
05:00
6. [CLASS101] Procreate 5.2 Updates: What's New
05:00
1. Exploring Procreate
15:21
2. Using brushes and layers to draw
21:08
3. Getting familiar with colors
16:11
4. How to improve quality using editing
14:10
5. Understanding canvases
11:38
2
Drawing the Basic Shapes
1. The basics of cute illustrations
15:25
2. Drawing an illustration using circles
37:26
3. Drawing an illustration using squares
26:25
4. Drawing an illustration using triangles
34:33
5. Drawing a soft illustration using curves
12:10
1. Understanding a person's basic structure and proportions
19:23
2. Drawing various faces
38:18
3. Adding clothes to your characters
28:13
4. Drawing characters in various poses
32:22
5. [I Like Playing the Best] Drawing
48:55
1. Understanding the basic structure and proportions of animals
14:19
2. Two-footed animals - Drawing an Asian black bear, koala, and seagull
33:08
3. Four-footed animals - Drawing a panther, puppy, and cat
38:45
4. Creating goods - A fabric poster
09:27
1. [The Life of a Homebody] - Drawing
10:37
2. [The Life of a Homebody] - Coloring
31:08
3. [A Good Day for a Picnic] - Drawing
12:55
4. [A Good Day for a Picnic] - Coloring
49:16
5. Ordering postcards and pictures
10:45
6
Drawing with a Colored Pencil Feel [Helsinki, the Blue City]
1. Sketching with reference to travel photos
19:12
2. Adding color to the page
30:51
3. Finishing with a colored pencil feel
28:47
7
Drawing with a Watercolor Feel [Walking Ending]
1. Sketching a simple and cute illustration
10:44
2. Adding color to the page
20:18
3. Finishing with a watercolor feel
24:53
1. Writing in a cute way
17:16
OUTRO
Congratulations on finishing the class!
1. In closing: Enjoy your time drawing!
01:36
Creator
Huseuhu
Hello, I'm Huseuhu, your instructor.
I, like many students, did not learn art through regular means. I loved drawing and became an illustration artist. I want to share my own way of drawing, not teach a prescribed framework!
Drawing is a personal pleasure, but I think it's a special thing to share the happiness with others around you.
If you like drawing, I'll help you make it easy and fun.