Hatching & Cross-Hatching
Learn how to draw parallel lines to create a value or tone.
Wireframing
Learn how to provide a clear overview of a structure with lines.

Principles of Perspective
Learn three elements of perspectives (single point, two point, and three point).
Drawing: Human
Learn how to draw different characters with distinctive features.
Drawing: Objects
Learn how to draw cars, trees, etc in different point of view.
Watercolor Brush Strokes
Learn how to draw thick & thin and dry & wet strokes.
Watercolor Techniques
Learn how to build up colors with watercolors.
What is Urban Sketching?
Urban sketching is the art of documenting the scenes you encounter in everyday life. Although the term "urban" refers to big cities and metropolises, urban sketching can be done anywhere, from your trip to the beach to your backyard.
Why Urban Sketching?
Why urban sketching? A photo will suffice… right? No! While a photo also captures the same scenes, with urban sketching, you can add your own artistic touch. Everyone views the world with different eyes. Urban sketching is the best way to show the world how you view everything around you!


Interested? Here's What You'll Learn
1. How to Fully Utilize a Pen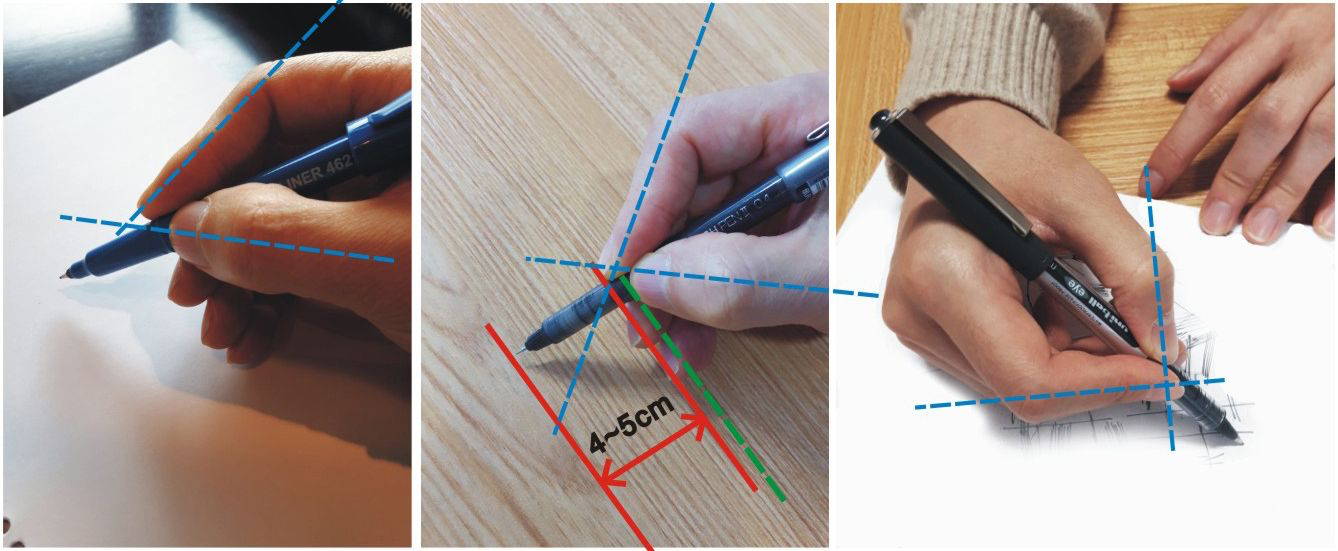 Did you know there's a special way you're supposed to hold a pen? Learn how to properly grasp the pen, and start with the basics of drawing lines and controlling pressure. The seemingly complex techniques are actually not that difficult! Sketch Forum will help you build a strong foundation for pen drawing.
2. What are Hatching Lines?
Hatching lines are often used to depict an appearance of a shadow. Lines are drawn close together and it can also create textures and tones. In engineering, hatching lines also indicate different materials.
In this class, Sketch Forum will teach you how to use hatching lines to express various shapes, textures, and three-dimensional effects. Completed urban sketches are composed of numerous hatch lines that convey atmosphere. Grasp the fundamentals of using hatching lines, and apply it to your urban sketch drawings!
3. Starting with a Skeleton Sketch
Instructor will systematically teach you how to understand, then apply, perspective and three-dimensionality, and the wireframe technique to form the structure of your urban sketches as if you were building a skeleton. After learning this, you will never be lost in the world of urban sketching.
4. Drawing People, Trees, and Cars
Wouldn't it be awkward if there were no people walking around, trees on the streets, or cars moving along the roads around buildings that were well drawn with pen? Also, if the movement of figures, the grain of the leaves, the angles of the car are poorly expressed, it would put all your hard work to waste.
Let's learn in detail how to understand and redefine the shapes and movements of a person, how to draw trees of various shapes and sizes, and how to view and draw a car from different angles, along with tips to drawing more of the elements that will make up your urban sketches.
5. Coloring Doesn't have to be Precise.
Don't worry about making mistakes or coloring over lines. Color is meant to be free. Sketch Forum will show you how to let go of your fears with coloring and fill your beautiful urban sketches with color.
Beautiful colors aren't only expressed through difficult techniques. Learn painting techniques using watercolors that even beginners can master. Color the way you want and complete your own urban sketches.
Curriculum
WELCOME
Introducing the course
2
Key Elements of Urban Sketch
3
Perspective and Perspective View
4
Principles for More Balanced Urban Sketch Drawings
5
Adding to Artistry with Hatching Lines
6
Completing the Sketch with Watercolors
OUTRO
Well done, you made it!
Creator
sketch_forum
Illustrator Sketch Forum
Hello! I am Sketch Forum! My name is Park Gwang Hee, an architect and your instructor! I majored in architecture, and I have been working in architectural design and interior architecture for a long time. I've done countless sketches, and I've published books on various projects. I have also learned and experienced art related practice to increase my artistic ability.
Based on the abundant knowledge I've accumulated through my experience with architecture and space design, I would like to introduce urban sketching to my students. I will always do my best to those who trust me and learn.