iPad / Procreate
16 Class Projects
It takes about 20mins ~ 2 hours to complete one class project.
One Fine Day

Late Night

Snow Day

Sunday Brunch

Late Night Travel

Hawaiian Dream

Summer Day

Green Day

City Lights

By the Window

London Afternoon

Driveway

Sunset

Tea Break

Summer Vacation

Love
Animating an Illustration
Learn how to turn your drawing in to an animation.
Expressing Textures
Learn how to use different brushes to create different textures .
Light, Shadows, and Atmosphere
Learn how to add light, and shadow to define your illustration.
Simple Figures
Learn how to draw simple shapes first before drawing complex figures.
Combining People and Landscapes
Learn how to draw human characters with a background.
Drawing Off Photos
Learn how to use photos, and other references to draw your illustration.
---


I draw an illustration that captures the happiness of a day
Hello, I'm Bae Sung-kyu. The first iPad digital drawing class I'm making it together with all of you, so too I had a meaningful and fun time. There were a lot of people in particular who were new to painting, Saying that I was able to draw every day because of my classI remember this. Through this class So that more people can take painting as a hobby I want to help
To portray all the moments you love
The second iPad drawing class will be held together to capture more of the convenience of everyday life A total of 16 paintings incorporating various topics, techniques, and applicationsI'll draw. A small happiness in everyday life where we can feel somewhat normal together A more vivid record of your ownLet's leave it as.
To complete one illustration
In order to draw a highly finished illustration, it is important to use a variety of textures appropriately and to structure the screen in a textured manner. simple From objects to portraits, backgrounds, analog effects, contrast, and color I put all of them in one class to the fullest.
Procreate is even smarter
With the new update to ProCreate, even more brushes have been added. Not covered in existing classes Convenient and versatile brushesWhile trying to use them together, the picture A little easier, more expressive I'd like to take the time to draw.
So that my memories can come to life
My picture How to create a moving animationI'll also learn with you. No other programs needed Possible with Procreate aloneDo it! On a flat picture A special work that tells a storyYou can try making one.
Portrait drawing showing the appeal of the target
People who have taken previous classes have told me a lot about wanting to try figure drawing as well. This time, so that anyone can follow along Cartoon-style character drawingI'm going to try it together. Draw easily by capturing and expressing the characteristics of the object I'll teach you the basics of figure drawing.
Once you learn how to draw people, of course, you will be able to draw people around you Drawing characters from movies and TV shows I've watched Also, you can do as much as you want! On Sunday, I will leave a poster of the work I saw during a refreshing brunch with friends and record it as a memory.
Reinterpret a picture by putting a picture on top of a photo
Do you have trouble drawing only people, but drawing backgrounds is difficult? Capturing space Draw directly on top of the photo to create a new feelingIt's also possible! . Of my favorite space Collage work where you comment on a photoLet's try it together.
Capture the beauty of the day that flows every day
On a Wednesday that feels like a long time for some reason, coming back after a hard day's work and watching a movie with someone special is really sweet, isn't it? Small romance in the cityIn order to be able to capture, Pictures of the night sky, buildings, and even the inside of a windowI'll draw it with.
Light and shadow capture the atmosphere of the space
On a leisurely day, go to a cafe you've always wanted to go to and leave a picture of the sunset. My favorite Observe the warm appearance of the interior spaceIt's about creating special happiness by doing it. Drawing a picture isn't as difficult as you might think. Adding mood to paintings Use of light and shadowI'll tell you very easily.
How to express a landscape in various ways
What's your favorite time of day? Even with the same background, The charm that comes with the passage of timeThis is different. Like that Multiple colors for a single landscape drawingI'll show you how to give it a new feeling. Let's draw together a picture of the sea that came to play on Friday after a long vacation.
You can add a variety of moods to a single picture by simply changing color combinations like this. Morning, afternoon, sunset, night... To be able to fully remember all the time I'll show you how to express a single background in multiple ways. Sun and moon, clouds, shadows We will also share the use of elements that can create an impression depending on the time of day.
Take your sights farther and wider
In this class sense of spaceBy expanding it a little more perspectiveI plan to express it more realistically. To be able to draw more complete illustrations, A more textured way to compose a pictureI'll let you know. Can be used frequently for space drawing Tips for drawing color schemes and backgroundsLet's practice together.
Let's take out a new photo that was only on my phone
Do you find it a bit difficult to know where to start when drawing while looking at actual photos? With examples The process of transferring a photo into a pictureI'll show you one by one. Through omissions and exaggerations based on photos taken in everyday life Background drawing that effectively captures the moodLet's learn together. Even without difficult vanishing points or sketching processes I can draw nicely. Let's try to see how easy and fun painting is!
A way to vividly record memories of travel destinations
A picture will allow you to capture a lot more on a screen than a photograph. Now record memorable scenes with pictures in a more intense and impressive way. whereby My own cool picture albumI can make it. The appearance of my beloved friends, family, lover, and meI'll also take a moment to easily draw in one corner. It's simple but The degree of completeness of the illustrationIt can significantly increase.
Exciting, isn't the most exciting moment of a trip on a plane? The moment of a night flight, A feast of lights capturing the night view of the cityLet's try to express.
So that I can draw well on my own
I really hope that through this class, you will be able to draw continuously, even for 10 minutes a day. I want to share the happiness of painting with more people. Do something I like To be able to paint step by step I'll help you. If you join me Incredibly easy, magically amazing I can complete the picture.
Now I'll make the picture my own
If before, I was just trying to follow the pictures I drew, then in this class Each person's favorite tasteI'm going to capture all of them in a picture. Once with my own painting, and again with my own It's about completing the page. Through this process, I want to prepare a class where everyone communicates and creates together. Let's have a more fun and meaningful time sharing our feelings and thoughts with others?
Curriculum
WELCOME
Welcome to Sungkyou Bae's Digital Drawing Class
1. Introducing the class: Drawing on the iPad
01:58
2. Introducing the materials: All you need is an iPad
03:23
3. How to find inspiration from the environment around you
03:38
4. [CLASS101] Procreate 5X Updates
05:00
5. [CLASS101] Procreate 5.2 Updates: What's New
05:00
1
Building a Strong Foundation on Procreate
1. Exploring the Procreate interface
09:56
2. How to use the multitasking function
02:19
3. On the brushes and palette
07:18
4. How to use layers
02:54
5. How to use the mixing tools
03:40
1. A Late Sunday Brunch - Drawing the furniture and objects (1)
27:39
2. A Late Sunday Brunch - Drawing the furniture and objects (2)
20:47
3. A Late Sunday Brunch - Expressing light and shadows and correcting for an analog feel
08:02
4. Waiting for Spring - Composition and coloring
15:25
5. Waiting for Spring - Adding smaller details
30:20
6. A Guest in Summer - Composition and coloring
23:58
7. A Guest in Summer - Expressing shadows and textures
10:15
3
Drawing in a Main Character
1. How to draw people
09:04
2. An Afternoon in London - Drawing a girl at a cafe
22:23
3. Basilica of Saint Francis of Assis - Drawing a man's face in profile
14:04
4. Walking the Streets of Seoul - Drawing with a change in clothing
14:26
1. A Night Flight - Drawing the window of a plane and coloring
11:34
2. A Night Flight - Depicting the view from the plane
16:05
3. A Blue Night on Jeju Island - Drawing an illustration based on a photo
23:06
4. A Good day on Jeju Island - How to use colors to portray different types of day

13:33
1. The First Day We Held Hands - Composition and coloring
09:18
2. The First Day We Held Hands - Coloring the people and expressing an analog texture
19:42
3. The Day I Listened to the Shade - Sketching the background and people
14:38
4. The Day I Listened to the Shade - Coloring and editing
24:43
5. A Slow Day - Sketching the background and people
12:43
6. A Slow Day - Coloring and expressing shadows
16:07
1. Passing By Mapo Bridge - Creating atmosphere using the same series of colors
40:21
2. A Busy Day - How to express 3D spaces with depth
36:11
3. Hawaiian Dream - Composition and coloring
15:34
4. Hawaiian Dream - Coloring the people and palm trees
15:18
5. Green Season - Drawing the space and people
35:01
6. Green Season - Drawing the trees outside the window
13:30
7. Cherry Blossom Season - Changing the tree to portray a cherry blossom tree
06:45
1. A Dreamlike Evening - Sketching and Coloring
23:11
2. A Dreamlike Evening - Adding an animation effect of a moving car
14:43
3. A Snowy Winter - Drawing the people and background
28:01
4. A Snowy Winter - Adding an animation effect of falling snow
13:18
8
Capturing Details with Shade
1. A Sleepless Night - Sketching the people and buildings
05:44
2. A Sleepless Night - Coloring and expressing an analog texture
35:13
3. A Sleepless Night - Adding an animation effect of blinking lights
10:00
OUTRO
Outro: Congratulations on Finishing the Class!
1. In closing: Sungkyou Bae's closing thoughts
02:22
Creator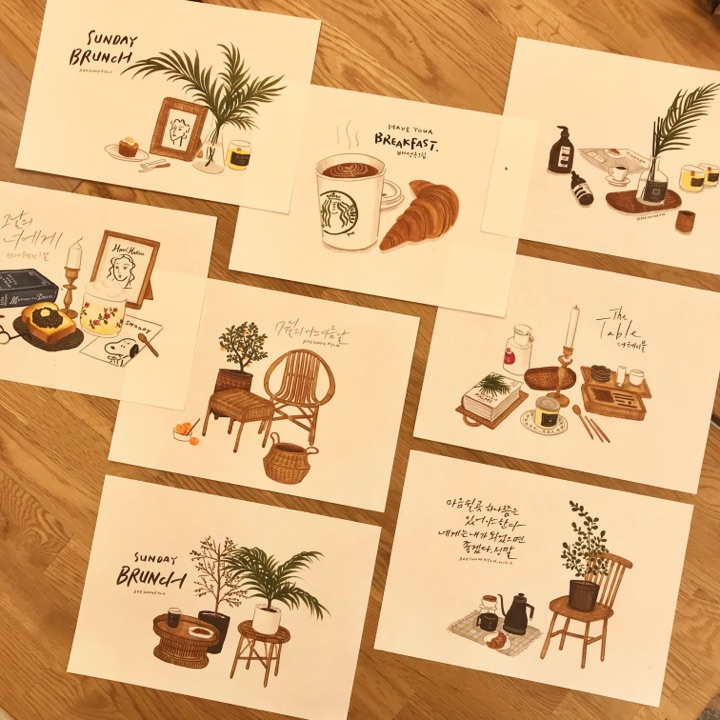 Dexterous_bae (Bae Sung-kyu)
I talk about today and that moment when every day is happy and dreamy.
Hello! I'm Bae Sung-kyu, an illustrator. Do you enjoy your everyday life in a special way? Aren't you living by forgetting the importance of small everyday life?
My work is drawing on a time called "today." It contains images of everyday life encountered everywhere, such as at home, on the street, or in a cafe.
I wanted to convey the warm message of analog by making full use of the analog feel and warm materials and colors of black and white silent movies where technology had not been developed.
I want to present a beauty that has already passed away. I thought it wasn't all about the brilliant visual effects or the amazing development of a new plot.
If you dream alone, it's just a dream, but if everyone fills in the dream page little by little together, a vast space can be filled with imagination.