1
Drawing the face with crisp detailed features with soft outlines
2
Learning to simplify and exaggerating volumes
3
Building basic blocks to create your drawings and portraits
4
Finding harmony between color and graphite
5
Developing observational skills and draftsman skills for your original style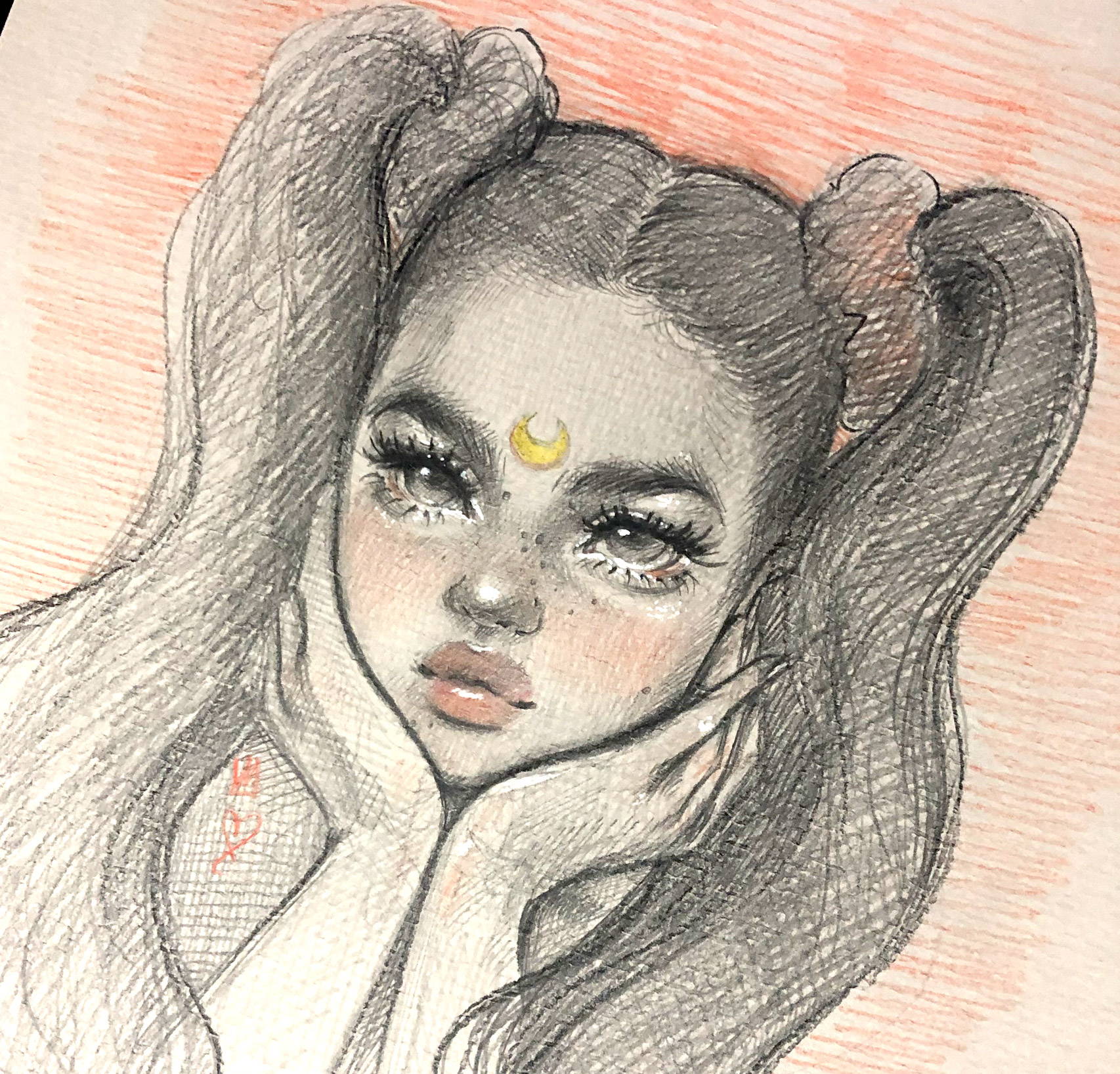 Do you like drawing self-portraits?
Realistic portraits have a beautiful charm, but have you ever wanted to take on a different route and create your original slice of a story based on what inspiring images have to offer? In this course, we will take basic drawing principles and traditional techniques to create our own characters' pencil portraits.
We will learn how to extract what we find most interesting and inspiring in our references. When I say references, I don't mean just photos. References include other artists' styles, childhood memories, other people, and even ourselves.
We will talk about how to create a visual map of what we personally find most interesting and how to translate these interests while creating portraits. Through the study of volume and texture, I will show you how to create the drawing that lies somewhere between a portrait and an illustration.
I organized this course for anyone who likes drawing, sketching, and illustration techniques, and would also like to learn more about figurative representation.
I will start with basic drawing and sketching skills that will help us create interesting textures and lines. And then, we will work our way up to rendering human figures, with a strong focus on manipulating facial features that we see in references to create what we wish to emphasize in our portraits while still retaining volume and expression.
By the end of this course, you will have a firm grasp of drawing basics and materials, how to create a
a visual map of references, how to train your eye into creating believable character portraits that tell a story or expression and find out who and what inspires you, and of course, how to create your character portrait.
As you follow through the creative and experimental exercises, you will learn how to develop your original style of drawing that is unique to the characters you wish to represent and create.
Curriculum
1. Introduction to the Course
02:47
2. Meet Your Instructor: Clarissa!
03:21
3. Introduction to materials: how to interpret materials for drawing (Part 1)
08:48
4. Introduction to materials: how to interpret materials for drawing (Part 2)
07:01
5. Introduction to materials: how to interpret materials for drawing (Part 3)
09:03
1. Understanding Lines, shapes and forms: basic building blocks of drawing
08:14
2. Practicing in capturing the gestures  
05:53
3. Grasping Cross hatching and creating textures

14:26
4. Learning from mistakes: Why sketching is important
13:47
5. Ludic drawing exercises to help you focus, observe and enjoy the process
09:57
1. Understanding Basic frontal face proportions
10:47
2. Perceiving facial feature: the upside-down triangle
10:45
3. Adding volume, light, and shadow on the face
10:26
4. How the contour affects the face: forehead, cheeks, and chin
05:40
5. Shaping neck and shoulders
06:21
1. Anatomical structure of the Eye socket and Eyeball
10:41
2. Setting the mood: pupils and Eyelids (Part 1)
11:30
3. Setting the mood: pupils and Eyelids (Part 2)
13:30
4. Eyebrows: their shape and how they tell a story
10:45
5. Brow hair and lashes: details that make a difference
17:27
6. Drawing from observation: How does your eye look?
09:56
7. The eye on colorful paper
10:24
1. Nose structure and shape: why is the nose so tricky?
05:40
2. How to simplify the nose
03:46
3. Adding volumes to the nose: Lighting and shadowing
10:35
4. Perceiving the proportion of the nose
05:29
5. Practicing with different Types of noses
08:09
6. Coloring the nose
06:47
1. Understanding the basic shape and volume of the mouth and the lips
08:39
3. Learning the different types of lips
07:32
4. Mastering the expression of the lips
18:04
5. Coloring the lips
08:31
1. Grasping Hair volume on the head
06:50
2. How to draw 1A to 4C (straight, wavy, curly) hair types
09:57
3. How to draw the ears
04:45
4. Using references: hair volume, styles, and cuts
11:55
7
Frontal Face - Let's review!
1. Review of all chapters: Sketching the head and proportions
04:55
2. Eyes, nose, and mouth (Part 1)
06:27
3. Eyes, nose, and mouth (Part 2)
07:55
4. Coloring softly to set the mood
16:27
5. Exaggerating textures and pulling back to create visual interest
04:25
6. Finishing touches: dealing with imperfections
18:42
1. Head Proportions: Simplifying the head in profile
07:49
2. How the eye, nose, and mouth change in shape
08:14
3. Drawing a clear profile
03:14
4. Coloring the face
11:20
BONUS
How to develop your original style and how I developed mine

1. How to develop your original style and how I developed mine
16:01
1. Congratulations on Completing the Course
05:04
Creator
Clarissa Paiva
Hello! My name is Clarissa Paiva. I am an artist and illustrator based in Brasilia, Brazil. I have a degree in Visual Arts and Fashion Design, and my passion has always been in traditional media such as drawing, painting, and illustrations. Along my 12 years of working in this field as a professional, I've taught dozens of drawing and painting classes and workshops to hundreds of students. I'm very excited to share what I've learned over the years and the process that I have developed over time with you.