All about POSCA Pens
Learn the basics of POSCA Pens and how to use them.
Brainstorming
How to find inspiration and turn them into unique creatures
Lineart
How to do lineart and shading with POSCA Pens
Composition
How to create a good composition with POSCAs
Final Touches
How to create complex POSCA illustrations and refine your drawings.
WHAT IS THIS CLASS ABOUT?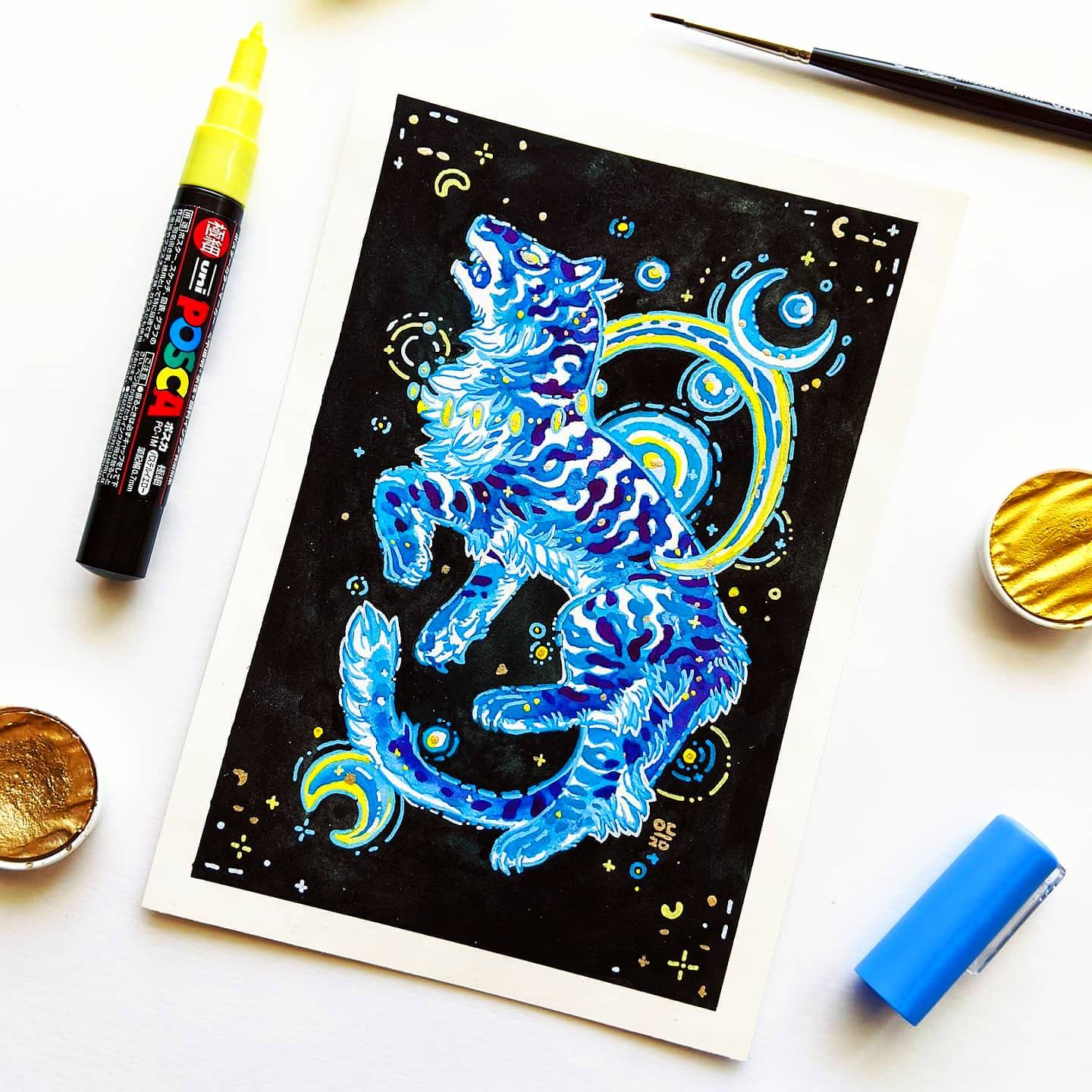 Do you want to design fascinating creatures in your unique style? If you're unsure where to begin, I am here to help you get started on creating your own dynamic, original characters.
Using POSCA Pens as a medium, build up your fundamentals to achieve what you want from your imagination onto paper. In this course, you'll learn how to master the basics of working with POSCAs, from shading, linework, and color combinations to composition and concept building. You will also learn the basics of monster anatomy to flesh out believable fantasy creatures in my signature style and see my work process.
WHO IS THIS CLASS FOR?
This course is for people who want to create unique creatures using POSCA Pens. You don't need to be an expert in anatomy, linework, or shading, but if you are, that's great! You'll be working within your skill level and yet learn to build from your imagination with the easy process I will be introducing.
WHAT WILL THE STUDENTS ACHIEVE?
This course will enable you to use Posca Pens to create monster illustrations straight from your imagination. We will go over how to utilize your skills to approach your designs with a systemic approach.
By the end of this course, you will understand how to break down creature designs and use the unique characteristics of Posca Pens to construct intricate illustrations.
Curriculum
1. Introducing the Course
02:10
2. Meeting the Instructor
03:40
3. Reviewing the Materials
03:41
2. Getting Started with POSCAs
06:43
3. Basics of Layering
07:16
4. Applying POSCA Palettes
22:28
1. Building Inspiration as an Artist
09:06
2. Refining Your Ideas
06:36
3. Turn Your Ideas into Rough Sketches
12:44
4. Let's Finalize Your Sketch
10:07
1. Picking A Sketch Direction
14:23
2. Color Palette Selection
21:54
3. Drawing Basic Creature
17:22
4. Applying Simple Shading & Lineart
26:42
4
Drawing Different Creatures
1. Applying Basic Anatomy
12:20
2. Combining Animals & Creating Original Creatures
24:57
3. Let's Draw Some Creatures
17:48
5
Creating Background Elements
1. How to Use Your Inspiration
15:41
2. Thumbnails and Planning
21:19
3. Create a Composition that Compliments Your Creature
11:12
4. Basic Textured Shading with POSCAs
38:16
5. Perfect Your Drawing with Background Elements
46:27
6
Applying Different Styles to Your Art
1. Defining Different Styles
10:49
2. Let's Try Some Stylized Creatures
43:57
7
Drawing a Complex Illustration
1. Thumbnailing and Planning
40:07
2. Building a Composition
30:49
3. Applying Creature Designs
32:42
4. Laying Base Colors & Shading
34:46
5. Finishing Your Illustration
30:14
BONUS
Bonus Thoughts from Thingsbydiana
2. Developing My Art Habits
12:38
1. Congratulations on Completing the Course
03:12
Creator
Diana Chan
Hello!
I'm Diana Chan, a part-time designer and a full-time artist from Canada. I've worked as an events coordinator, a project manager, and a designer, so communicating easy to digest information has always been important to me. I've been a designer for 5 years, and I often bring design concepts to my illustration work. I enjoy simplifying difficult concepts for people, and I love having an opportunity to share my thought process as an artist.