Using Fine Liners for Line Art
Learn how to draw sharp and clean lines with the fine liners.
Using Colour Markers
Learn how to use alcohol markers to colour, blend, and shade.
Drawing an Anime Character
Learn how to draw an anime character (face, hair, anatomy).
Designing Your Own Character
Learn how to design your own character from top to bottom.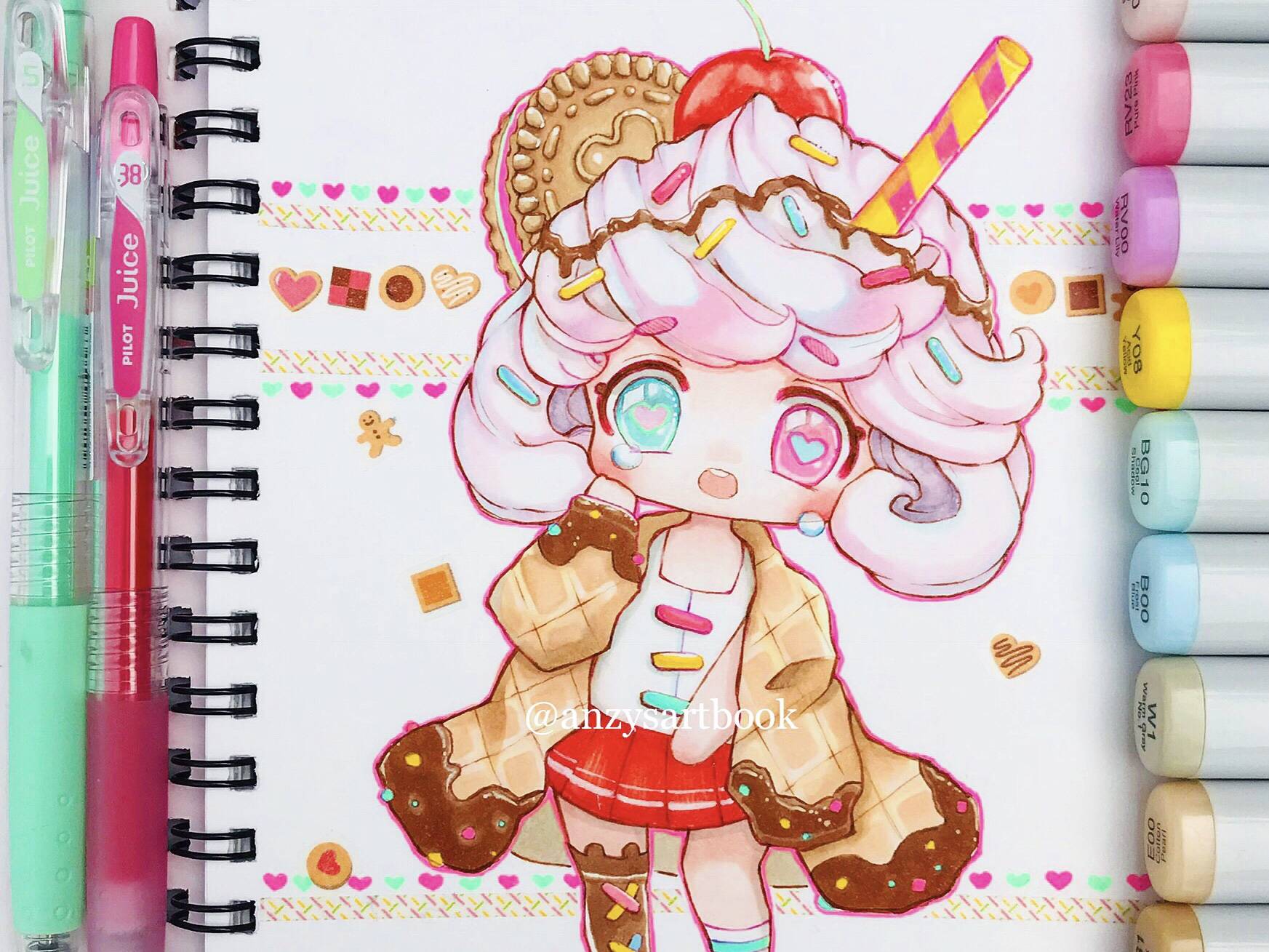 WHAT IS THIS CLASS ABOUT?
Do you love drawing cute anime art?
In this course, I will guide you through the process of designing and drawing "kawaii" anime characters using Copic Markers. Whether you draw anime art for fun, commissions, or merchandise, this course can teach you how to up your art game and boost your creative process!

WHO IS THIS CLASS FOR?
"How do I design cute anime characters?"
"I need help with anatomy!"
"How do I avoid same-face syndrome?"
If these are the types of questions you need help with, then this course is for you! If you are someone who love drawing anime, cute things, and want to improve your drawing and colouring skills, you have found the right course!
WHAT WILL THE STUDENTS ACHIEVE?
By the end of this course, you will understand the basics of drawing cute anime faces, anatomy, and cute poses. You will know basic coloring, blending and shading techniques using Copic Markers. When you are done, you would have created an original, kawaii anime character of your own! As a bonus, I will also explain my own personal method of how to stay inspired and come up with original ideas, and my own experience of growing as an artist on social media.
Curriculum
1. Welcome to Anzy's anime art class!
02:48
2. Your instructor, Anzy: an artist who loves cute anime art
02:40
3. Introducing your class materials
06:36
1. Fine liner basics: do's and don'ts
07:00
2. Line weight and line colour
08:56
3. Tips for clean and sharp line art
06:45
4. Mission: Draw cute animals with fine liners
17:55
1. Understanding how alcohol markers work
11:58
2. Blending and colour selection
08:58
3. Shading: Adding depth and texture
14:50
4. Mission: Colour cute objects with markers
25:35
3
Drawing a Cute Anime Face
1. Anime face: basic proportions
13:46
2. Facial features ("how do I draw the other eye!?" and other questions)
24:40
3. Cute expressions and angles
19:10
4. Mission: Skin tones, blush, and shading
13:22
1. Tips on drawing natural and flowy hair
09:01
2. Simple hair styles: Straight vs curly
19:51
3. Special hair styles: Twin tails and buns
20:15
4. Mission: Colouring and shading hair
26:31
3. Strike a cute pose!
20:23
4. Handy tips for drawing hands
21:19
6
Designing your Own Cute Character
1. "Help! How do I come up with character design ideas?"
09:40
2. Adding clothing and accessories
26:07
3. Mission: Make your own character sheet
07:40
1. From 0 to 100K: What I learned about growing as an artist on social media
11:59
1. Congratulations on completing the course!
02:41
Creator
Anzy
Hi!
I'm Anzy, an artist who loves drawing cute anime characters with soft and dreamy pastel colours. I post my drawings and anime art tutorials on Instagram (@aanzzyy) and Youtube, and my work has been featured on the social media accounts of both Copic Japan and North America.
My lifelong dream is to become an anime art instructor - it makes me really happy when I am able to help others learn about and enjoy anime-style drawing! While I am mostly self-taught, I have also taken manga classes in Japan. Whatever your art goals may be, I hope I can help you, as that is what I am here to do!