Various ingredients including oil
1 Class Projects
It takes about 1-2 hours to complete one class project.
CP soap made with my own hands
Infusing oil
To maximize the medicinal benefits of herbs, herbs are infused into oil.
Design soap making
I'm going to learn various techniques for making CP soap.
*** The classes of the expert matching platform 'Soomgo' will be revealed exclusively on CLASS101+. ***
About the class
If you're a classmate who is interested in handmade soap, you probably have sensitive skin and are looking for a cleanser that suits you, or you're deeply concerned about how to coexist with the earth. That's what I used to do. Because my skin is sensitive, it's difficult to improve my skin with commercially available cleansers and soaps, so I wanted to make and use products that take the global environment into consideration for packaging and ingredients.
In this class, you can make soap that is perfect for your skin by selecting all the ingredients in the soap yourself, from one to the heat. I'll explain the function of each ingredient, so you can make your own judgment and add the ingredients that suit you, and remove the ingredients that don't suit you. Also, in order not to harm the jungle, they make farm-free vegan soap that does not contain palm oil. It's a rich class that includes alternative ingredients for palm oil, soap making know-how discovered after a long period of research, and Pong Mann's cute design techniques.
Course effect
You can learn about oil containing medicinal herbs, or oil infusing (oil can be added to soap, but you can also apply it directly to the skin)
You can learn how to make soap that does not contain palm oil and Pong Mann's vegan soap making know-how
You can learn about the functions of aroma oils and learn about the principles of blending
You can learn and apply various soap design techniques and know-how
You can learn techniques to add desired functions to soap by adding additives
Recommended classes
Those who want help to improve skin health
Those who couldn't use any cleanser because their skin was sensitive
People who usually like to make things themselves
Those who want to know FXNG Pong's secret to making cute and healthy soap
A person who thinks and practices a lot about how the earth and humans can coexist
Notes before taking the course
Before making soap, you'll be dealing with a somewhat dangerous substance called caustic soda, so it's a good idea to clean up complicated items and work in a place where there are no pets or children. Also, work in a place where ventilation is possible.
2 reasons why this class is special
❶ The secret to maintaining a beautiful and healthy soap brand that has been visited by many people for 4 years
The biggest advantage of Pong's soap making class is that they carefully consider the environment and carefully select the ingredients. I'll tell you Pong Mann's soap making know-how that compensates for the problems caused by not adding palm oil contained in conventional CP soap.
I think the person who makes soap should know the ingredients and their principles. The unique strength of my curriculum is the unique strength of my curriculum, rather than just teaching recipes, but the process of explaining them so that they can be applied.
❷ I am involved in every process of carefully selecting ingredients to make soap that is perfect for my skin
If the first class, "Fragrant Gifts for Nature and Me: How to Make Vegan Soap," was a class that focused on soap design, then this course designed a curriculum so that you can make even the oil that is added with your own hands and select the raw materials. I think you can think of it as a class that focuses more on functional aspects.
You can also learn about the role of each ingredient in soap and the blending of essential oils for aromatherapy. Experience aromatherapy in your daily life through this course!
Curriculum
CHAPTER 0
Hello, I'm Inari, the soap maker of FXNG Pong.
CHAPTER 1
Making infused oil with dry herbs
CHAPTER 2
Precautions when handling sodium hydroxide
CHAPTER 3
Understanding essential oils
CHAPTER 4
Making plain cp soap
CHAPTER 5
Making BHA exfoliating soap
CHAPTER 6
Making soap with helichrysum oil
CHAPTER 7
Making soap with calendula oil
CHAPTER 8
Making soap with hibiscus oil
Creator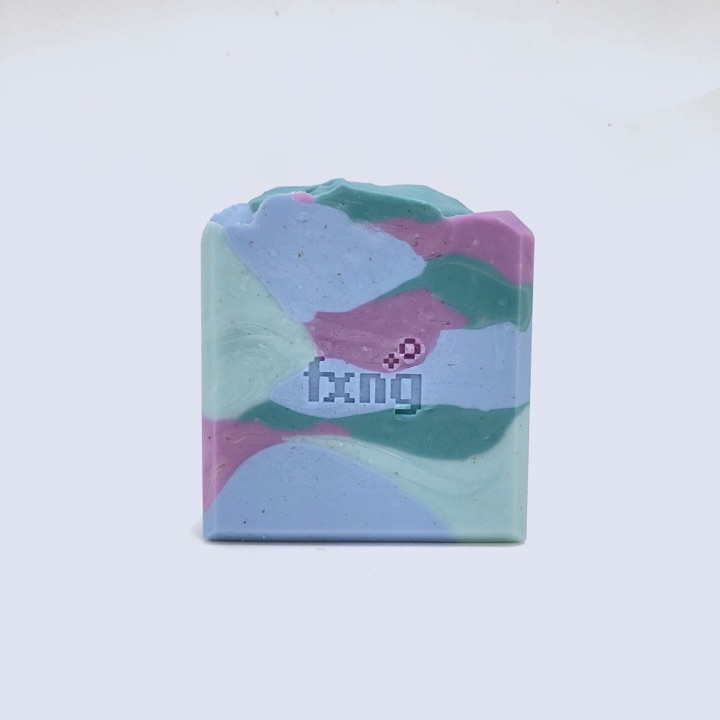 fxng
Hallo This is Inari, the soap maker of Pong.
Over the past 10 years, I've bought, tried, and been disappointed over and over again with all the cleansing products that have been rumored to be good. Eventually, I learned that none of the products on the market had a dramatic effect as advertised, and that they only contained a lot of harmful ingredients. While living as a drugstore nomad, I came across soap made from natural ingredients through an introduction from a friend. Not only is it healthy for my skin, I was surprised to hear that plastic waste doesn't come out and biodegrades as soon as it comes into contact with water, reducing water pollution!
I also fell in love with soap making because I could get aromatherapy benefits from naturally derived essential oils, and I could even create beautiful designs by adding my sense of beauty.
I started a business because I wanted more people to know about the appeal of this kind of soap. Even now, I'm studying hard and seriously making it while thinking about the faces of people who are happy using the soap I made!
*NAHA (National Association for Therapeutics Aromatherapy) Level 1,2 Instructor
*International Aroma Research Association (IARA) Natural Soap Regular Expert (Aroma Blending Perfume Soap, Design Soap Craft Instructor Course Completed)
*Active as a soap maker and aromatherapist for vegan soap brand FXNG Fong